Gujarat's Statue of Unity is not only an ambitious project but also a medal of honor to Sardar Vallabhai Patel and every Indian on this planet. A trip to this place can be assumed to be on the bucket list of every travel enthusiast especially the Indians. But the ongoing pandemic has proven to be the thorn in the path of those who have planned a worthy trip to this must see monument in India.
Safe place to stay at tent city, Narmada
Tent city is a relief to people waiting for a chance to have a look at this 600 feet monument, tourists can find a safe place to stay. Every precaution for Covid 19 or any other unexpected and unplanned occurrence are taken care of at this amazingly beautiful resort.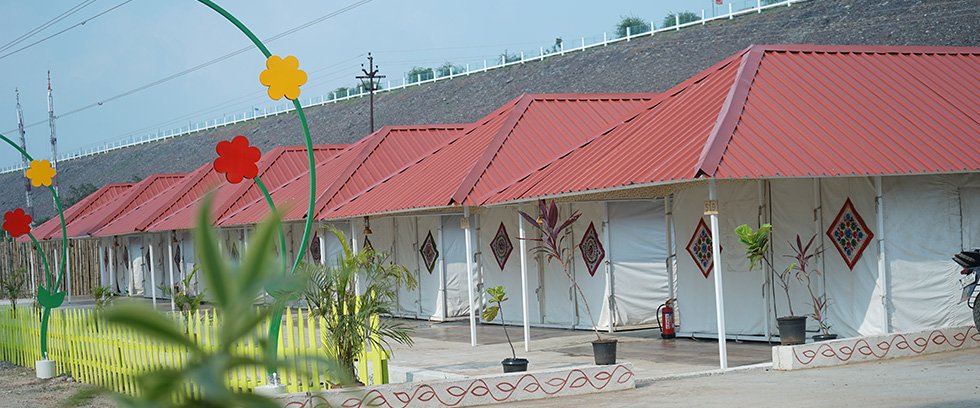 This tent city, along with being a visually stunning place to stay, also is upgraded on the Covid 19 safety protocols and other safety measures for unforeseen incidents. Services such as social distancing and sanitizing are top notch in this dream resort. Coming to the comfort of the tourists, tent city Narmada provides the travelers with an A Class accommodation in premium, deluxe AC Tents and also budget friendly standard non AC Tents. A selfie station to make your visit and stay memorable provided by the Tent City Narmada is the highlight of this resort.
Features unique to tent city, Narmada
The beauty of nature:
Amidst the beauty of nature, tent city gives the tourists an unforgettable experience. With meadows, thick forest areas, water and great wildlife, this resort is a dream destination for many travelers and tourists.
Social Distancing is maintained:
To combat the tough times of the pandemic, this luxurious as well as affordable place at the proud tourist destination, has maintained proper protocol for social distancing. Even at the Statue of Unity, all security and safety measures including social distance are maintained.
Surrounded by mountains:
Located between the Satpura and Vindhyachal hills along the very beautiful Panchmuli lake, this resort is surrounded by mountains and provides a stunning view to its residents.
Safety norms are strictly followed:
To keep a tourist spot running among the pandemic is a responsible job. And tent city upholds this responsibility remarkably. Services like sanitizing and social distancing along with other safety norms are strictly followed by this resort to ensure the safety of not only all the tourists but also the staff of the resort.
Dining area:
The dining area at the tent city, despite coming out as a camping site, is a popular spot among tourists. Cuisines like Indian and continental are catered to by Marriott.
At an accessible distance to this resort are eco-tourism sites for those interested in trekking. You can also enjoy the view of the Sardar Sarovar Dam where one can spot crocodiles, which have proven to be yet another bonus for hidden adventure junkies.
Online booking, tour packages and other details:
There are three types of travel packages available at tent city. The narmada tent city price is all affordable as well as luxurious. You can choose a one night, two day package starting from 3000 rupees excluding the GST. A customizing option based on number of people and type of tent: AC or non AC is also
available at extra charges. This also includes the entry ticket to the famous Statue of Unity.Another package is the 2 night 3 day package. Cost starting from 6000 rupees, the tourists can enjoy customizing options like single person or twinning in deluxe, luxury or premium AC and non AC tents varying with the price. An entry ticket to the Statue of Unity also is included in this package.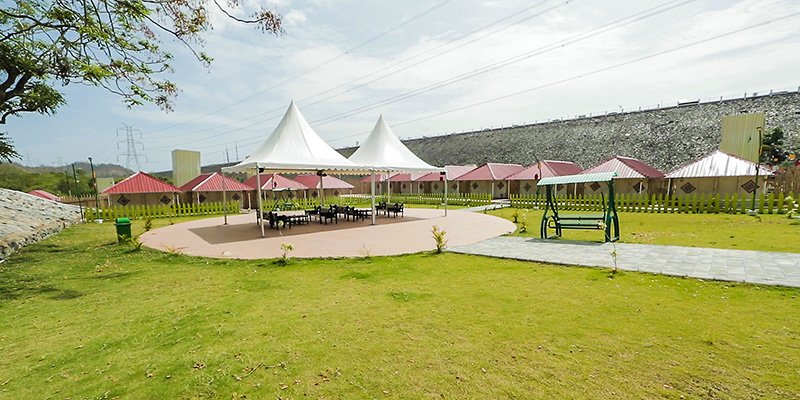 The third option for tourists is the day package starting at 2500 rupees. Luxury tent accommodation, lunch and entry ticket to the Sardar Vallabhai Patel statue are some inclusions, as well as the highlights of this package to those tourists who do not have the time or interest to stay the night at this location. The Statue of Unity tent city narmada is thus the most sought out destinations and accommodations this year.
Conclusion
The most ardent reason that pulls the tourists to this destination is that at this resort all the safety norms are strictly followed. Social distancing is maintained and the tents and dining areas are sanitized and well maintained. Stay safe and stay luxurious at the tent city Narmada, the luxurious resort near the Statue of Unity.